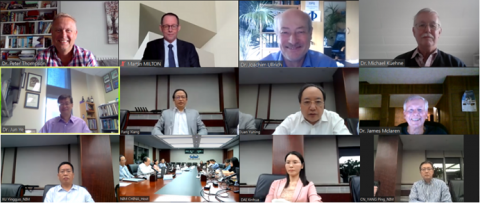 The National Institute of Metrology (NIM), China held its 14th Meeting of the International Advisory Board (IAB) from 21 to 23 September 2022. NIM Board of Directors met with six IAB members on a Zoom meeting, with NIM Fellows, heads of research divisions (centers), and administrative departments joining the meeting.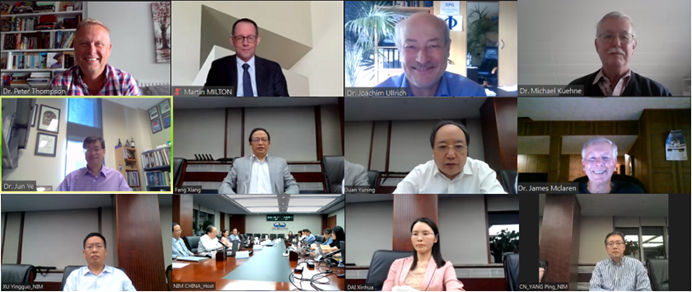 Mr. FANG Xiang, NIM Director, expressed his warm welcome and heartfelt thanks to IAB members for their great support to NIM over years. He delivered an opening remark highlighting NIM's new developments in its 14th Five-Year strategic planning, branches in localities, services to industries, etc. Dr. DUAN Yuning, NIM Vice Director, gave an overall update on NIM's figures and facts, technical highlights, and scientific layout in response to the major challenges. Two videos introducing the work progress of the NIM-Zhengzhou Institute of Advanced Measurement Technology and the NIM-Shijiazhuang Technology Transfer Base were played. Then a few researchers presented focused reports on three selected topics: climate change and environment, health and life sciences, and energy. 
The discussion part has focused on NIM's preliminary ideas to enhance cross-disciplinary collaborations among internal organizations.
Despite the travel restrictions due to the COVID-19 pandemic, the three-day meeting has witnessed tangible outcomes. IAB members and NIM's Board of Directors had in-depth exchanges. IAB members provided insightful recommendations and shared their professional experiences. 
This Webinar marked the 3rd one where IAB members and NIM colleagues met online since the outbreak of the COVID-19 pandemic. Both sides expressed great expectations to resume face-to-face discussions in the near future.
The IAB was established in 2009 and holds a meeting every year. IAB members have made great contributions to NIM's progress and witnessed the continuous development of metrology in China. Six members attended this meeting, including Dr. Michael Kuehne, former Director of the BIPM; Dr. James McLaren, former Secretary of the CIPM and former Director General of Institute for National Measurement Standards of NRC, Canada; Dr. Martin Milton, Director of the BIPM; Dr. Peter Thompson, CEO of NPL, UK; Dr. Joachim Ullrich, Vice-President of the CIPM and former President of PTB, Germany, and Dr. Jun Ye, Professor of the University of Colorado and NIST/JILA Fellow.