The National Institute of Metrology (NIM), China has successfully developed two certified reference materials (CRMs) for 2019-nCoV nucleic acid testing (NAT): a high concentration standard and a low concentration standard, which have been officially certified as GBW(E)091089 and GBW(E)091090. These CRMs can be used for qualitative and quantitative measurements of 2019-nCoV nucleic acid, validation of 2019-nCoV NAT methods, and quality control and assessment of NAT kits, providing metrological traceability to measuring results.
The two CRMs are in vitro transcribed RNA, designed to target the published three major genes of novel coronavirus: the nucleoprotein N gene (full length), the envelope protein E gene (full length), and the open reading frame 1ab (ORF1ab) gene fragment (genomic position: 14911-15910). Reference values are obtained by quantifying copy number concentration of N, E and ORFlab gene fragments, with a Digital PCR quantification method for 2019-nCoV nucleic acid developed by NIM. The dPCR technology is an internationally recognized reference method for testing nucleic acid by direct measurement of target copy numbers, enabling precise, highly sensitive quantification of nucleic acid that is traceable to the SI.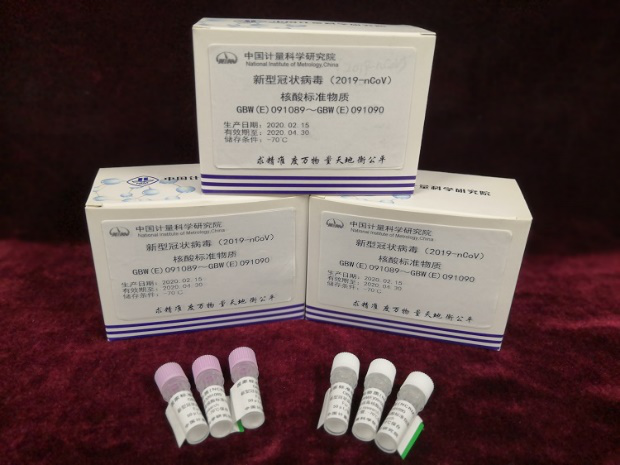 RMs for 2019-nCoV nucleic acid testing
At present these CRMs have been distributed to more than 90 institutions in need, including disease control and prevention centers, clinical laboratories, hospitals, scientific research institutions, and kit manufacturers.