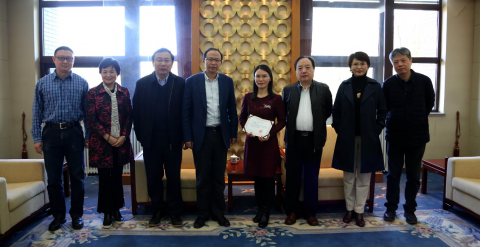 Release date: 4 Nov. 2019
Recently, Ms Dai Xinhua, a research fellow of NIM, was selected as one of the National Talents and was awarded the honorary title of "Young and Middle-aged Experts with Outstanding Contributions".
Dai Xinhua expressed her gratitude to the leaders of NIM for their training and encouragement. She said she will redouble her efforts, strengthen team building and self-construction, make new contributions to the metrology course.
Dai Xinhua is currently the director of the Nano Division of NIM, receiving special allowances from the State Council, delegate to the 19th National Congress of CPC, the "National March Eighth Red Flag Bearer". She is responsible for a number of major scientific research projects, won a number of national, provincial and ministerial-level science and technology awards, and achieved outstanding performance and remarkable achievements. She is a leading talent in the field of organic pure material measurement in China.
The National Talents Project is the leading project for the selection and training of young and middle-aged academic and technical talents in China. It focuses on selecting and cultivating young and middle-aged talents who can lead and support the great-leap-forward development of national science and technology and key areas. It can lead and support the country's major science and technology and key areas to achieve leap-forward development. 
(Text by Chen Yu, Che Weina, Picture by Huang Deshun)