Release date: July 19, 2019
A few days ago, Dr. Walter G. Copan, U.S. Under Secretary of Commerce for Standards and Technology and NIST Director, Dr. James K. Olthoff, Associate Director of NIST, and Claire M. Saundry, Director of the International and Academic Affairs visited NIM. They met with President Fang Xiang and Party Secretary, Vice Director Duan Yuning of NIM, had a panel discussion. Relevant personnel of relevant departments also participated in the event.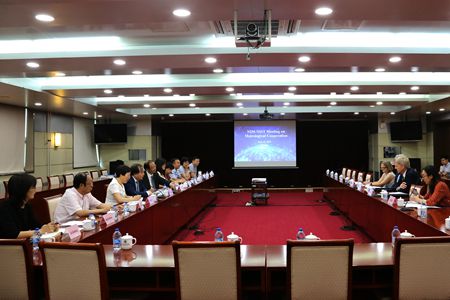 Panel discussion
Fang Xiang, Director of NIM introduced the overall situation, especially the highlights and achievements in coping with the changes to the International System of Units (SI), serving the national economy and the people's livelihood, and conducting international cooperation.
Dr. Walter, NIST Director gave an overview of the NIST, including its overall objective, some ongoing research work, and achievements and cases of the NIST in terms of redefinition of the SI and transformation of technological achievements.
Both sides had discussions and exchanges on measurement needs in terms of the basic and frontier research and serving the economic industry and people's livelihood of common concern as well as the potential cooperation in the future. Before the exchanges, Dr. Walter and NIST delegation visited 9 laboratories of Boltzmann constant, greenhouse gas, joule balance, and chemistry and food safety in Changping campus of NIM and had in-depth exchanges with laboratory researchers.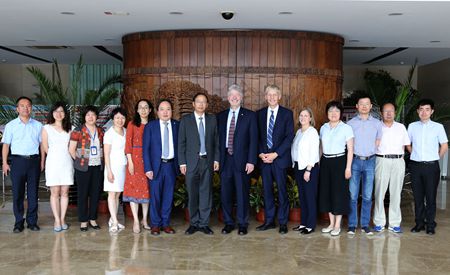 Participants of both sides
NIST and NIM are national metrology institutes of the U.S. and China respectively. Both sides have conducted close academic and personnel exchanges in recent years and carried out win-win cooperation in multiple disciplines and fields such as coping with changes to the SI and protecting the environment. Among the rest, cooperation concerning standards for greenhouse gases measurement and precision medicine of both sides was listed on the outcome list of President Xi Jinping's state visit to the U.S. in September 2015.
(Text by Liu Xuhong, Gao Wei, Che Weina / Picture by Huang Deshun)