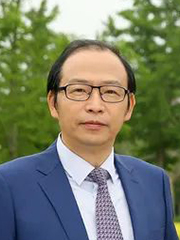 Mr. Xiang FANG is Director of the National Institute of Metrology (NIM), China, Secretary of the CPC Committee of NIM and a senior researcher of NIM. He also serves as Director of the National Time and Frequency Measurement Center and Director of the National Research Center for Certified Reference Materials (NRCCRM). He is a member of the 13th and the 14th Chinese People's Political Consultative Conference. He is also a State Council Special Allowance Expert.
Before Mr. Fang took office as NIM Director in 2014, he had assumed a number of executive positions, including Vice Director of the former NRCCRM that has been merged into NIM, Vice Director of NIM, Vice Director of the China National Institute of Standardization (CNIS), Chief Engineer and then Vice Administrator at the Standardization Administration of China (SAC), successively.
He has been engaged in research on metrological technologies, measuring instruments as well as management of standardization for a long time. He has led the planning and implementation of the National Key Technologies R&D Program, the Scientific Instrument Research and Development Program, and research projects funded by Natural Science Foundation of China. Being a senior researcher in mass spectrometry field at NIM, he was granted the China's National Science and Technology Progress Awards (the Second Prize) and some provincial level awards for research achievements. He has also participated in the development of a number of state-level strategic plans for science, metrology and standardization, including the National Long-term Science and Technology Development Plan (2006-2020), 11th and 12th five-year strategic plans for science and technology in China, Outline for the Establishment of National Scientific and Technological Infrastructure Platform. He has organized the development of 12th Five-Year Plan for Technical Standardization.
Mr. Fang was elected Chairperson of the Asia Pacific Metrology Programme (APMP) for a three-year term from December 2019 to December 2022.
As Director of NIM, he presides over the administrative work and Party Committee issues of NIM. He is also responsible for assets and finance of NIM.