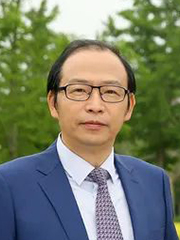 Director of NIM and deputy secretary of the party committee of NIM, Director of the National Time and Frequency Measurement Center, Director of the national Research Center for Certified Reference Materials (NRCCRM). Member of the Communist Party of China, member of the 13th CPPCC, researcher.
Mr Fang graduated from the Changchun Institute of Geology (now Jilin University) with a bachelor's degree in Geophysics in 1984.
He served as deputy director of the NRCCRM, vice director of NIM, vice director of the National Institute of Standardization, and chief engineer/deputy director of the Standardization Administration of China.
He is granted with special government allowance by the State Council.
Since 2014, Mr Fang has been serving as the director of NIM.
He has rich experience in research and standardization management of measurement technology, testing technology and instruments. He has led many national science and technology research projects, key tasks of science and technology support plan projects, key projects for scientific instrument development, and key projects of the National Natural Science Foundation. He holds several invention patents in mass spectrometry and the research and innovation of mass spectrometers. He has won two second prizes of National Science and Technology Progress Award and a number of provincial and ministerial first prizes. He has participated in the drafting of the Outline of the National Medium- and Long-Term Plan for Science and Technology Development (2006-2020) and the science and technology plans for the Eleventh Five-Year and Twelfth Five-Year Plans, and the guideline for the construction of national science and technology platform with basic conditions. He also organized to edit the Technical Standards for the Development of Science and Technology for Twelfth Five-Year Plan.